Accused Limo Mob Was Shooting Music Video
Family members said the group was shooting a video for a song called "Take a Sip"
|  Monday, Jul 9, 2012  |  Updated 6:04 PM CDT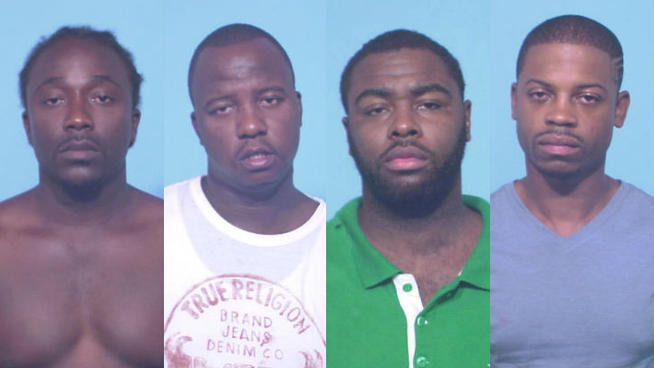 Family members of the accused say the group was shooting a video for a song called "Take a Sip" when they were taunted by others on the street. Charlie Wojciechowski reports.
Relatives of four men arrested for allegedly attacking random people in Wrigleyville Sunday morning said the group was shooting a music video.
Family members said the group, which goes by the name Chicago Maverick, was shooting a video for a song called "Take a Sip." They said the group was being taunted by people on the street and was the target of racial epithets.
[Aww, did us nasty white people call you a mean word? That's okay you poor oppressed black people, you can beat up anyone who calls you a mean word. You're the real victims, the victims of white privilege and racism. You can assault and murder white people all you want, it's our fault for being so racist and prvileged. We're so sorry for bringing you to America, you'd be so much happier in Africa.]
The comments came after a Cook County judge on Monday ordered Corry Simmons, 32, of the 1800 Block of South Ridgeway; Donald Robinson, 31, of the 1800 Block of South Ridgeway; and his cousin Edward Robinson, 31, of the 1800 Block of South Springfield Avenue held on $400,000 bonds on charges including felony mob action and aggravated battery.
A fourth man, Alvin Goffin, 32, of the 3600 Block of South Rhodes Avenue is being held on $250,000 bond on mob action charges.
The incident happened just after 1 a.m. Sunday. Police said the group jumped out of a white stretch limousine and started attacking people on the 3500 block of North Clark Street, a block from Wrigley Field, while someone else videotaped the attack from the inside the limo.
Three men, ages 22, 27 and 27, were injured, police said. One of the 27-year-old victims was treated for a broken jaw at Illinois Masonic Hospital. The others sustained minor injuries.
Police said an officer was slightly injured while taking one of the men into custody. Simmons was charged with resisting a police officer.
Police said four or five other men, including the person filming the incident, fled in the limo.
Police said there was no indication this was a racially motivated attack, but detectives said they are looking into all possibilities.
[Why do these articles always specify that there's no evidence the crime was racially motivated? Did anyone ask? Does it matter? Methinks the police doth protest too much!]
Source: http://www.nbcchicago.com/news/local/Mob-Attack-Near-Wrigley-Field-161766825.html#ixzz20HsP0zLC